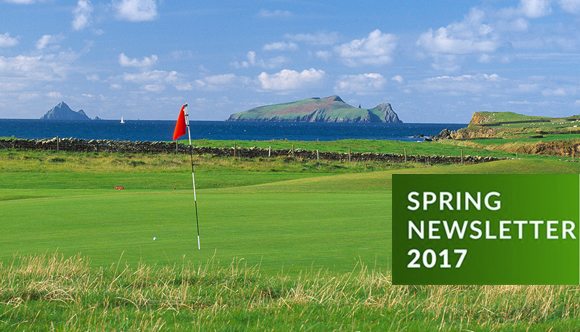 2017 Spring Newsletter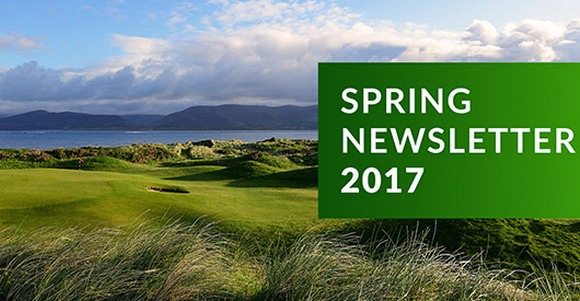 As the evening's get long & the weather improves (hopefully), we've put together an update on golf in Ireland's south-west. The winter in Ireland has been kind & except for recent wet spells, the courses are sure to be in prime condition for the coming season. 2017 is set to be an exciting year for golf in Ireland, with an increase in visitors from North America & Europe expected for yet another year. The demand for
golf in Ireland
is very high at the moment and the Irish courses are working hard to ensure golfers have the most enjoyable of experiences.
Adare Golf Club
The big news around the south-west is the re-development of
Adare Golf Club
. Owner JP McManus has outlined his aspirations to bring the
2026 Ryder Cup
to Limerick and the newly renovated golf course is expected to be magnificent. Renowned golf architect Tom Fazio has been contracted to oversee the re-development & Adare is set to open in September.
#adaremanor #newbeginnings #beautifuladare #treeplanting #trees #golf #tomfazio pic.twitter.com/Cd9acKnCn6

— Adare Manor Hotel (@TheAdareManor) March 7, 2017
Although there has been no alteration in the order of holes, the golf course has undergone massive change and the stats are impressive. The project has included:
72,000 linear meters of drainage;
64,000 tons of sand beneath the rough;
50,000 kilograms of seed on the greens, tees, fairways, and rough;
35,000 tons of sand beneath the fairways;
12,500m sq of Pure Distinction creeping bent seed sod;
3,000 tons of bunker sand in 44 bunkers;
2,700m sq of increased size in the greens;
1,215 sprinklers;
82 brand new tees;
79 hectares of cut grass
19 new bridges over the River Maigue.
The course will also have SubAir technology under each of the bent grass greens which will ensure the putting surface will be in superb condition, no matter what the Irish weather can throw at it. Long rough will be a rare occurrence sand-based fairways will ensure the driest of playing conditions. As well as the golf course, there are several changes in the Adare resort itself, with the hotel getting a full renovation & an extension of the room capacity to 104 rooms, a stat of the art spa & a new golf clubhouse. This, along with a new caddy program will surely cement Adare's place as Ireland's leading 5-star golf resort.
---
Killarney Golf & Fishing Club
Killarney Golf & Fishing Club
has continued its renaissance since a major restructuring of the club in the summer of 2013. The club has invested heavily in the facility year on year and has now firmly become a must play for any group staying in Killarney town. Last winter saw the worst flooding in living memory at the club and despite this the courses presented at an unprecedented standard for the club last Summer.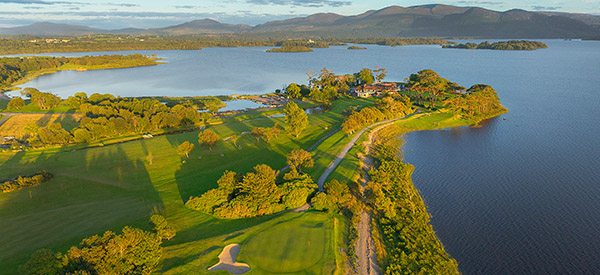 Members and guests alike provided rave reviews of the course presentation, conditioning, and consistency. This year the club has continued the hard work during the offseason and thankfully has enjoyed a more co-operative Winter from a weather perspective.
"We're delighted with where we are this year as we enter the playing season. We have done a number of tweaks on both courses which will really add to the players experience both on and off the course. We're excited to see just how good we can be on our courses, and to get the season up and running now and look forward to a busy season ahead" – Killarney Golf & Fishing Club GM Cormac Flannery.
First day of 'balcony weather' of the year! ?????????????????? #rollonthesummer #seeyouthissummer #lovekillarney #Golf #ireland pic.twitter.com/0es768a37a — Killarney Golf Club (@KillarneyGolf) March 11, 2017
Once all course work has been completed & Killarney has unveiled their course improvements we will be sure to post up some videos & pictures.
---
Ballybunion Golf Club
Ballybunion
has used the off-season effectively to improve their courses over the last number of years & this year is no different. The continued work on the course is a testament to Ballybunion and its commitment to staying in the top-ranked course in Ireland.
Lower 13th Tee, fairway re-aligned and bank removed at Kitty's River, Ballybunion Old pic.twitter.com/vodmY9mYzX

— Ballybunion Golf (@BallybunionGN) January 7, 2017
"This winter, work was done on the 6th hole "Garden" area, we lowered the 13th tee and realigned the 13th fairway. We also redid the 3rd, 7th and 14th tee complexes on the Old Course."  – Ballybunion Golf Club manager Vari Mc Greevy
---
Waterville Golf Links
Waterville
has begun a refurbishment of its clubhouse this Winter which will be carried out in 2 phases. The development will include new bar & restaurant, a new pro shop, & new locker room facilities.
---
Lahinch Golf Club
Lahinch
is celebrating 125 years of golf in 2017 so and have lots of plans to celebrate this milestone. On the development side, we have completed an extensive works program on both golf courses including:
Old Course
Redevelopment of 2nd tee boxes
Re-graded and turfed area between the end of the 2nd fairway and approach to the green
New 8th tee box complex including grass pathways
Re-graded and turfed blue 9th, 12th and 14th tee boxes
Re-graded and turfed grass pathway from 10th tee box to fairway
Re-graded and turfed grass pathway from 11th green to 12th tee box
Extended 12th fairway back towards the tee box
Installed lateral drains on 15th fairway
Raised grass pathways on 17th hole
Major bunker maintenance program completed
Castle Course
Installed lateral drains around 2nd & 3rd holes and 14th & 15th holes
Major bunker maintenance program completed
One of the major developments over the past year was the development of the short game academy on the old Army barracks site located across the road from the 1
st
tee. This includes a short game range; chipping green and bunker practice area as well as practice driving bays.
---
Trump International Golf Links Doonbeg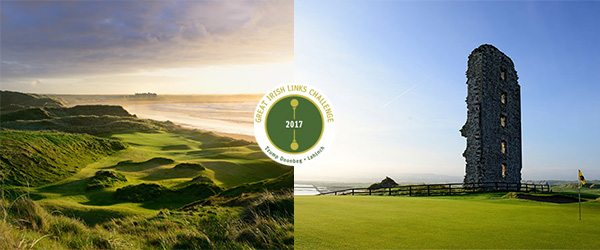 Lahinch Golf Club and Trump International Golf Links Doonbeg have combined to create the Great Irish Links Challenge. You can play two of the countries finest courses over 4 days, while also experiencing Irish hospitality on the Wild Atlantic Way. There are daily prizes on offer & the winners will receive the coveted title of Great Irish Links Champion.