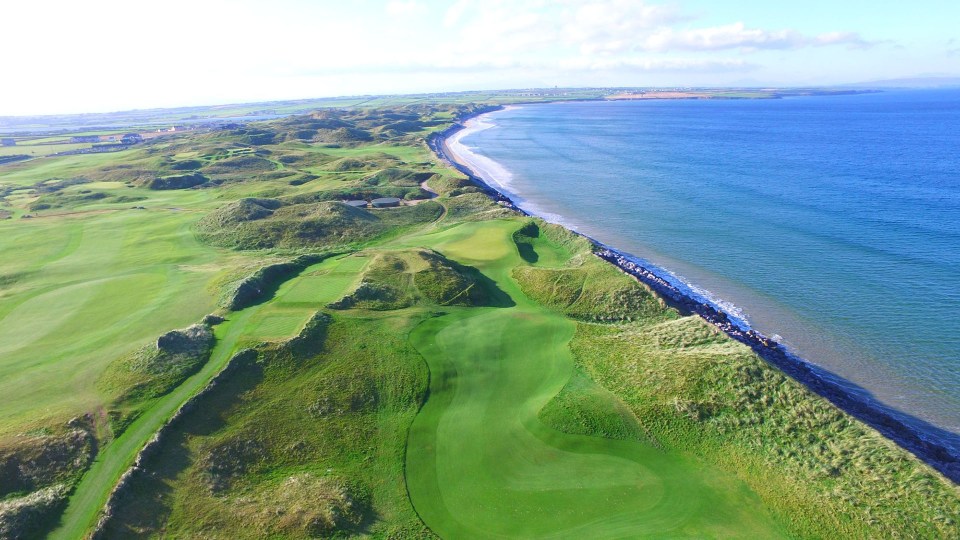 Ireland is renowned for its stunning landscapes, rich history and for its exceptional golf courses.
With nine Irish golf courses receiving a prestigious Outstanding Service Award from IAGTO in 2023, it's no surprise that golf enthusiasts from around the world flock to Ireland to tee off against a backdrop of rugged coastline, rolling hills and lush greenery.
Let's take a journey through everything you need to know about golf in Ireland, starting with the main four golf regions.
Page Contents
Golf regions in Ireland
The South West
The South West Region of Ireland has earned its reputation as one of the world's top three golf destinations (as nominated by the Golf Channel).
Home to iconic courses like Tralee Golf Club, Lahinch Golf Club, Ballybunion, Waterville Golf Links, Old Head Golf Links, Trump International Golf Links Doonbeg, this region is a golfer's dream. 
Serviced internationally by two airports, Shannon and Cork, the South West is also Ireland's most popular tourist destination outside of Dublin.
Beyond golf, the South West offers a blend of links and parkland courses, excellent accommodation, welcoming pubs and the friendliest people known to mankind.
A golf vacation here is not just a sporting adventure but a deeply emotional and spiritual journey that will leave lasting memories.

The North West
The North West Region is an unexplored gem, gaining popularity thanks to its inclusion in the Wild Atlantic Way (WAW).
This coastal route stretches over 2,600km (1,600 miles), offering breath-taking views. Golfers are treated to some of Ireland's most striking links courses, each presenting its own unique challenges.
The great links courses here are Connemara, Carne, Enniscrone, Co Sligo, Donegal, Nairn and Portnoo, Rosapenna, Portsalon and Ballyliffin. Don't miss Galway Bay Golf Resort, a must-play course in this captivating landscape.

North East
The North East region, which includes Northern Ireland, boasts two of the world's greatest links courses—Royal County Down and Royal Portrush.
Royal County Down was once voted the world's number one course by Golf Digest and Royal Portrush hosted the prestigious Open Championship in 2019.
The region also features other notable courses like Ardglass, Castlerock and Portstewart (host to the Irish Open in 2017), while Belfast offers pristine parkland courses in Malone and Royal Belfast.
Beyond golf, explore what Northern Ireland has to offer. To learn more about Belfast's rich history, visit the Titanic Experience and enjoy a tour of Bushmills Whiskey Distillery and the Giant's Causeway.

Dublin and South East
The Dublin and South East region seamlessly combines top-class links and parkland courses with the vibrant city life of Ireland's capital.
Located on the East coast of Ireland in what is now part of Ireland's Ancient East, Golfers coming to this region can enjoy golf on a fantastic combination of links and parkland courses close to Ireland's capital city. These include Portmarnock Golf Club, County Louth Baltray, The Island Golf Club, Royal Dublin, Druids Glen, The K Club and Carton House.
This region also boasts famous attractions such as the Guinness Storehouse, Jameson Whiskey Distillery and Trinity College Dublin.
Golfers can create a complete golfing package in Dublin or combine it with a South West golfing tour, taking advantage of Ireland's main airport for convenient access to the entire golf country.
Whether you're chasing the thrill of an exceptional championship courses, the allure of links golf, or the scenic beauty of Ireland's coastlines, these golf regions offer an array of experiences for every golfer. 
Contact the SWING Golf team to reserve your Irish golf getaway today

The best time to play golf in Ireland
When planning a golf trip to Ireland, timing is crucial to ensure an optimal experience.
Ireland, renowned for its lush green landscapes and world class courses, offers different seasons, each with its unique appeal.
Peak season (May – September): The best time for a golf trip to Ireland is during the peak season, which runs from May to September.
This period offers the most favourable weather conditions, with milder temperatures, longer daylight hours and minimal rainfall.
Golfers can expect lush, well-maintained courses and a vibrant atmosphere. However, popularity comes at a price – booking tee times well in advance is advisable due to high demand.
Be prepared for higher prices during this peak period.
Shoulder season (March, April & October): If you prefer a quieter golfing experience with lower costs, consider visiting during the shoulder season.
March, April and October offer more availability on the golf courses and reduced green fees.
While the weather may be slightly less predictable, Ireland's charming landscapes are still a treat for golf enthusiasts during these months.
In summary, the best time to play golf in Ireland depends on your preferences.
Opt for peak season for ideal weather and a bustling golf scene, or choose the shoulder season for a more affordable and tranquil golfing experience.
Regardless of when you visit, Ireland's golf courses promise breathtaking views and exceptional play opportunities.

What's the weather like in Ireland?
If you're planning a golf trip to Ireland, you might be wondering, "What's the weather like in Ireland?" Well, the answer can be summed up in one word: unpredictable!
Ireland is known for its beautiful but ever-changing weather and it's a topic of humour among locals.
To keep an eye on the current weather conditions and be prepared for Ireland's famously fickle climate, you can check out this Irish golf course weather site.
We advise all our clients to be prepared for rain, hail and sunshine during your golf trip. As the saying goes, in Ireland, you can experience all four seasons in a single day!
Pack your rain gear, multiple layers and a sense of humour and get ready to enjoy not only the golf courses but also the famous Irish craic – a warm and friendly atmosphere that makes any weather feel like golfing heaven.
Check out our climate table on average Irish monthly temperatures, rainfall and sunshine to give you the best idea of when to book your golf trip.
| | | | |
| --- | --- | --- | --- |
| Month | Average temperature | Average rainfall | Average sunshine |
| January | 41°F (5°C) | 70mm (2.7in) | 2 hours per day |
| February | 41°F (5°C) | 60mm (2.3in) | 3 hours per day |
| March | 45°F (7°C) | 70mm (2.7in) | 4 hours per day |
| April | 46°F (8°C) | 50mm (1.9in) | 5 hours per day |
| May | 52°F (11°C) | 50mm (1.9in) | 6 hours per day |
| June | 56°F (14°C) | 70mm (2.7in) | 6 hours per day |
| July | 60°F (16°C) | 50mm (1.9in) | 6 hours per day |
| August | 60°F (16°C) | 80mm (3.1in) | 5 hours per day |
| September | 56°F (14°C) | 60mm (2.3in) | 4 hours per day |
| October | 51°F (11°C) | 80mm (3.1in) | 3 hours per day |
| November | 46°F (8°C) | 60mm (2.3in) | 2 hours per day |
| December | 44°F (7°C) | 80mm (3.1in) | 1 hour per day |
Golf packages and tours
Discover the beauty of Irish golf with SWING Golf's expertly curated golf packages.
With years of experience as a trusted golf tour operator, SWING Golf offers a range of bespoke and set packages tailored to your preferences.
Whether you're seeking championship links or hidden gems, our packages provide an unforgettable golfing experience.
Explore our detailed package options and start planning your dream golf getaway in Ireland today.

Packages include:

Golf etiquette in Ireland
Golf etiquette in Ireland is deeply rooted in the sport's traditions and values, aiming to create an enjoyable experience for all while upholding the integrity of the game.
Understanding and adhering to these guidelines is essential for every golfer.
By following these guidelines, you'll not only enhance your own golfing experience in Ireland but also contribute to the enjoyment of the sport for others.

Golfing gear and equipment
When embarking on a golf trip to the picturesque greens of Ireland, ensuring you have the right gear and equipment is essential for an enjoyable and comfortable golfing experience.
Here's a comprehensive guide on what to pack and know about your golf equipment in Ireland:
Golf clubs: Shipping your own clubs is ideal if you're particular about your equipment. However, if travelling light is your preference, rest assured that many golf courses in Ireland offer rental clubs of various brands and types. We can liaise with your chosen golf courses to confirm availability and make reservations if needed.
Golf balls and tees: Stock up on your preferred golf balls and tees. Ireland's lush courses may require extra balls, especially if you're exploring challenging links.
Golf shoes: Comfortable, waterproof golf shoes are a must, as Ireland's weather can be unpredictable. Ensure they are broken in to prevent discomfort during your rounds.

Golf rain gear in Ireland
Ireland is known for its occasional showers, so investing in high-quality, waterproof golf rain gear is prudent.
This should include a waterproof jacket, pants and a cap to keep you dry and comfortable during your rounds.
Pack a variety of golf-appropriate clothing. Given the potentially changeable weather, layering is key. Include moisture-wicking shirts, sweaters, windproof jackets and breathable, waterproof rain gear.
Ready for an Irish golf adventure? Contact SWING Golf to start planning your trip today. We are your trusted golf tour operators, with over 40 years of experience.

Off course activities
Beyond its world-class golf courses, Ireland offers a wealth of sightseeing and tourist activities to enhance your visit.
Explore the vibrant cities of Dublin, Belfast and Cork, known for their rich history, culture and lively pub scenes.
Immerse yourself in Ireland's stunning natural beauty by hiking in the rugged landscapes of the Ring of Kerry or the Cliffs of Moher. Delve into the country's folklore with visits to ancient castles, such as Blarney Castle and mythical sites like the Giant's Causeway.
For those seeking relaxation, indulge in a leisurely afternoon at a traditional Irish spa or enjoy a scenic drive along the Wild Atlantic Way.
Ireland's off-course experiences are as diverse as its golf courses, ensuring an unforgettable journey for all visitors.

Tips for playing golf in Ireland (from our experts)

Are you ready to book the trip of a lifetime?
Ireland is an international golf destination. With its breathtaking landscapes, home to a third of the world's natural links courses and unpredictable weather the Emerald Isle offers a golfing adventure like no other.
Whether you tee off during the peak season or explore the tranquil shoulder months, the allure of Ireland's courses and the warmth of its hospitality are ever-present.
Golf here is more than just a game; it's an unforgettable journey of camaraderie and connection with nature.
If you're ready to embark on your own golfing odyssey in Ireland, look no further.
The SWING Golf team, with their expertise as trusted golf tour operators, is here to make your dream golf holiday a reality.
Plan your tour today and let us craft a golfing experience that suits your preferences and ensures you experience the very best of Ireland's golfing treasures.

Frequently asked questions
Where are the best golf courses in Ireland?
This question is very difficult to answer! At SWING Golf, we are proud of the international respect that our south west golf courses command, but there are fantastic golf courses all around the country.
It depends on the type of golf trip you'd like to experience. Tell us what you're looking for and we'll recommend the best courses for you.
What happens if it rains and I can't play golf?
Tee times missed due to weather are handled on an individual basis by each course and are not the responsibility of SWING.
In most cases the course will work to reschedule your round. If rescheduling is not possible, only the course has the discretion to authorise a refund.
Please send the course authorisation to SWING for processing. Tee times missed for any other reason is the sole responsibility of the individual and not the golf club or SWING.
Any refunds will incur administration charges.
Do golf clubs in Ireland close in winter?
Most of our clubs stay open during the winter period, weather permitting of course.
Green fees are at significantly reduced prices due to the quality of the courses declining and less-desirable weather.
Links courses usually use mats during the winter period to protect the courses and many of the top-line links courses are closed to visitors during the winter months.
Can you ensure that we get good weather?
Unfortunately, we cannot make promises that we cannot keep, it is Ireland after all. Fingers crossed!
What's the best day of the week to play golf?
The best time to play golf in Ireland is during the week. A lot of our courses are member clubs so availability is limited at the weekend. Courses such as Ballybunion do not allow any visitors on Saturday or Sunday. Prices also tend to be higher at the weekend.
Can we bring non-golfers with our group?
Yes, we welcome all non-golfers and we can organise sightseeing activities, accommodation, transport and more.
Yes, we have many golfers who play 36 holes in one day and will be able to avail of a discounted rate for the second round in most courses.
Can I play 36 holes in one day?
In Ireland, during the summer, daylight lingers well into the evening, especially in mid-June, with twilight lasting until around 11 pm or even later, making it perfect for a full day of golf.
Can we organise extra rounds of golf "on the day" during our trip?
We can organise extra rounds of golf on the day but this is fully subject to availability. During the summer months, availability can be extremely limited at popular golf courses but we will do what we can to assist.
How many golf courses are in Ireland?
There are approximately 350 18-hole golf courses in Ireland. Along with 9-hole courses, the total breaks the 400 mark which is very substantial for a country the size of Ireland. Have you heard about the guy who has played them all?
Do I require a handicap certificate in Ireland?
You do not require a handicap certificate of any kind in Ireland. For some of the top links & parkland courses, it is recommended that you have a handicap of 18 or less for men and 28 or less for women to get the most enjoyment out of playing.
Can I book golf lessons while on my trip?
We can book you golf lessons with PGA professionals while on your trip for either individual / group lessons or specific golf clinics (subject to availability).