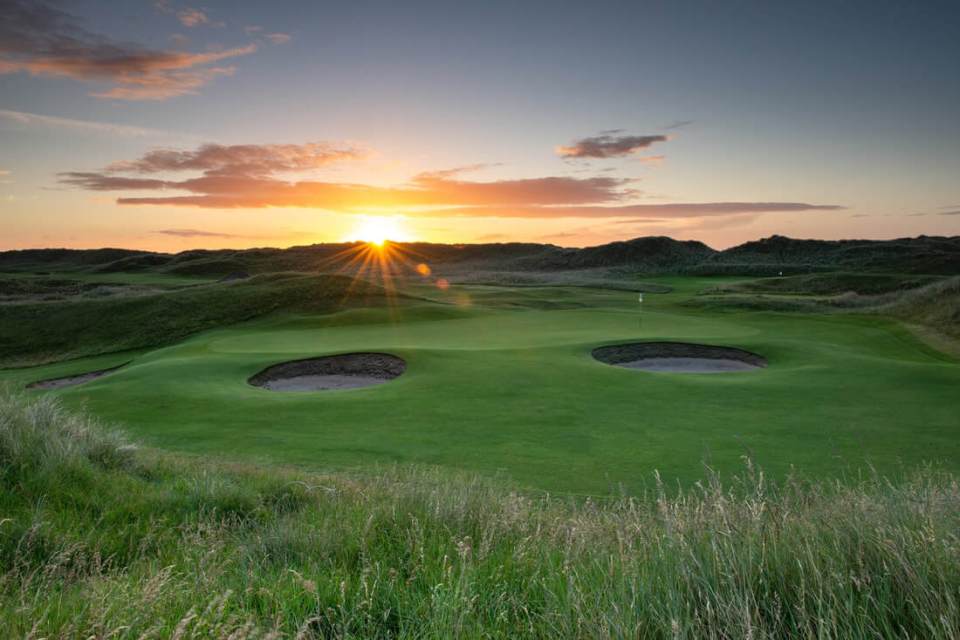 It's easy to book a golf trip to Ireland with SWING Golf. You can do any of the following:
What do I need for booking a golf trip to Ireland?
If you are the leader of your group, or the lead person in the booking, we advise you gather the following information to make the process as efficient as possible:
Arrival and departure dates
Number of golfers and non-golfers in your party
Preferred golf courses for the schedule
Number of rounds of golf required
Preferred tee times at each course
Transportation preferences
Accommodation preferences
After you book, you may add more golfers to your group. However, please note that golf and accommodation bookings will be subject to availability.

How long in advance should I book?
With demand for golf in Ireland increasing year on year, it is not unusual for golfers to book their tour between 12-18 months in advance of travelling.
While it may not always be possible to confirm bookings far in advance, it is never too early to start planning.

What can I expect when booking my trip?
Step 1
When you fill out our tour planner or request a package, we will provide you with an estimated quote as soon as possible by email or your chosen method of contact
Step 2
If we need additional information, we will request this before putting together your quote, tailored to your preferences and requirements
Step 3
If you are happy to proceed, we ask for a deposit to secure the booking. The deposit amount varies, ranging from 25% to 35%, depending on the specific golf courses selected for the trip
Step 4
Once you have submitted the deposit, we will promptly send you a booking confirmation
Step 5
The remaining balance for the trip is expected to be settled six weeks before the scheduled date of your golf trip
Step 6
After receiving the full payment, we will issue you with vouchers, ensuring you have all the necessary documentation for your upcoming holiday
Please note that while this is a general outline of our booking process, the details may vary for each trip due to the unique nature of golf outings and potential changes in arrangements.

How do I make a payment?
Payment can be made by bank transfer or credit card. We accept all major credit cards. Transactions are subject to handling fees depending on your card type.
For more information, please view our terms and conditions.

What happens if I need to cancel or amend my booking?
A reduction in numbers made after booking confirmation must be notified to SWING 8 weeks prior to the commencement of play. 
Failure to comply with this condition will result in the client being held liable for the full green fee.
Note: normally, reduction in numbers falls within 1-4 . Any numbers greater than this are looked at in relation to polices of the golf courses involved. All and any reductions can be subject to administration fees.
Cancellations made after confirmation of booking and 8 weeks in advance will result in withholding of the booking deposit paid. 
Cancellation within one month will result in SWING withholding full payment.
If, after confirmation of a booking the client(s) require a complete change in itinerary, this will be treated as a new booking and will incur administration fees.

How can I contact you?
We are confident that your trip will be meticulously planned and memorable. Your dedicated SWING account representative will be available for any questions you have in the booking process and leading up to your trip.
However, we understand that issues can arise while you are on your holiday.
Here are some ways to contact us:

Do I need insurance?
Travel insurance is strongly advised for trips to Ireland. It safeguards against unexpected medical expenses, trip cancellations and delays.
Medical emergencies can be costly without insurance coverage, and travel insurance ensures you receive timely care. It also reimburses non-refundable costs in case of trip interruptions, covers lost or damaged belongings, and assists during flight delays.
Additionally, it provides peace of mind with 24/7 assistance and personal liability protection.
Overall, travel insurance is a valuable investment, offering financial protection and support in unforeseen situations, making your Irish journey worry-free and enjoyable.

Tee times missed due to weather
Tee times missed due to weather are handled on an individual basis by the golf courses and are not the responsibility of SWING. In most cases the course will work to reschedule your round.
If rescheduling is not possible, only the course has the discretion to authorise a refund.
Please send the course authorisation to SWING for processing.
Tee times missed for any other reason is the sole responsibility of the individual and not the golf club or SWING.
Any refunds will incur administration charges.

Do I need to book my flights myself?
As Ireland's golf tour experts, we specialise in organising golf, accommodation & transport during your trip to Ireland.
You will need to book flights for yourself and your party. We generally advise using price comparison sites like Skyscanner to find the best deals on flights.
Here is a list of Irish airports with international connections:

How much does a golf trip to Ireland cost?
It's important to ask "what's the price tag?" when booking your golf tour. Of course, the answer depends on lots of factors. Here are some of the costs involved in your trip, as well as estimated costs.
1. The time you travel: Naturally, the best time to play golf (peak summer season) will be more expensive than the shoulder season. This is the case for both green fees and accommodation, and is worth bearing in mind. You should account for airfare, luggage costs, transfers and shipping costs for your equipment.
2. Golfing venues: Unsurprisingly, the more in-demand the golf course, the higher the green fee. Some top clubs charge up to €430 ($460) in green fees. However, it's possible to find less expensive options, depending on the club and day of the week. Don't forget to factor in tips for your caddy.
3. Transportation: The cost of your golf vacation will vary depending on your chosen transport option (helicopter, chauffeured vehicle or self-hire).
4. Accommodation: Similarly, your accommodation preferences will influence the final cost. SWING Golf offers castle, 3*, 4* and 5* star accommodation options.
Booking with SWING offers the assurance of an exceptional golfing experience, backed by our extensive expertise gained from many years in the industry.
With a track record of satisfied customers and a deep reservoir of golfing knowledge, SWING stands as a trusted partner to ensure your Irish golf tour exceeds your expectations.
Call us today for a personalised quote.

Do I need a visa to visit Ireland?
Ireland allows some visa-free travel for citizens of countries on the list of non-visa required countries. Check the list of visa-required countries.
For example, citizens of the United States do not require a visa to enter Ireland and visit for up to 90 days. If you are a citizen of a visa-required country, you may be required to apply for a Short Stay 'C' visa.
A visa is not required for entry into Ireland if:
You are a citizen of the European Union (EU) or the European Economic Area (EEA), including Iceland, Norway, and Lichtenstein, or Switzerland.
You possess a residence card issued by an EEA nation or Switzerland, which is granted based on your status as a family member of an EEA or Swiss citizen
It's important to note that you must undergo passport and document checks by immigration authorities upon arrival at the airport or port, and an immigration officer retains the discretion to deny entry to Ireland.

Will Ireland require ETIAS?
As of 2023, you will not require an ETIAS visa waiver to visit Ireland. The ETIAS applies to countries under the Schengen agreement, excluding Ireland.
However, if you wish to visit other EU countries on your visit to Ireland, you should check whether you need to apply for the travel authorisation in advance of any bookings.

What do I do with the vouchers you sent me?
Make sure to bring the vouchers that you received from SWING with you on your golf tour and exchange them at the golf courses for green fees and at the hotels for your accommodation bookings.
What part of my trip should I book first?
We highly recommend to all our clients that you book your green fees before booking flights, accommodation, or transport. This is due to high demand and limited availability during high season.
Booking your golf vacation to Ireland
When planning your Ireland golf trip, you'll discover a wealth of amazing golf courses that make the Emerald Isle a golfer's paradise.
From the rugged beauty of links golf courses along the western coast to prestigious destinations like the Royal Dublin Golf Club and the Royal County Down, Ireland offers a diverse range of options for golf enthusiasts.
The South West of Ireland is renowned for its stunning landscapes and head golf links, with the Old Head Golf Links being a standout experience.
To ensure you get the most out of your Ireland golf adventure, explore our south west Ireland and our all-Ireland golf packages that cater to your preferences and tee off on some of the world's finest golf links.