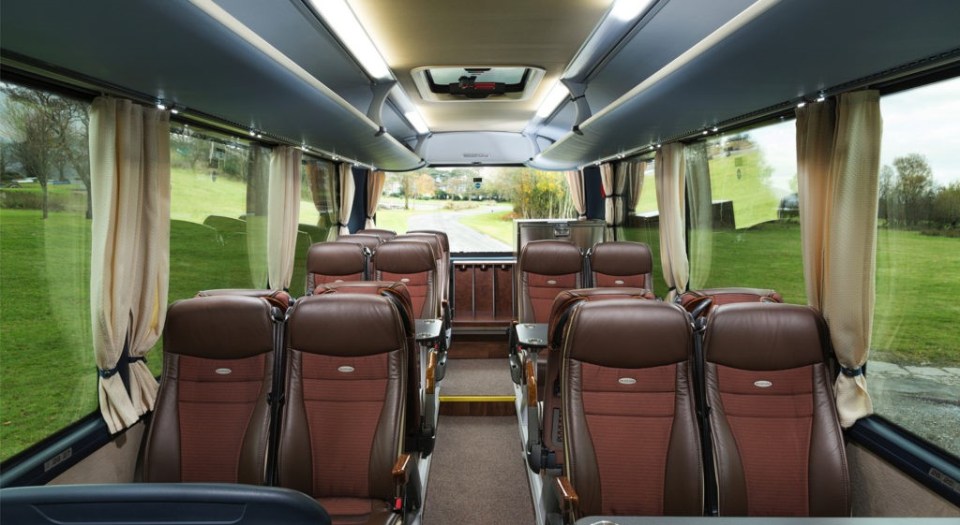 As one of Ireland's best golf tour planning companies, we specialise in organising golf, accommodation and transport during your trip to Ireland.
Tailored transport with SWING Golf
Enhance your Irish golf tour with SWING Golf by selecting transport options tailored to your needs. As part of our tour planner, you can choose from the following:
For groups of four or more, we recommend the chauffeur option.
Chauffeur-driven transport
SWING Golf's range of chauffeured options cater to all group sizes, ensuring you experience the utmost comfort during your Irish golf trip.
Whether you're a small party of golfers, a business group, or a larger gathering, our concierge chauffeurs are looking forward to welcoming you to Ireland.
Our "+ options" add an extra layer of opulence, making us the best choice among Irish golf tour operators for an unforgettable journey between courses.
Your chauffeur is more than just a driver. They double as your de facto tour guide, enriching your journey with stories and local insights (and advising on the best pubs) that will ensure your golf trip is unforgettable.
Class A: Effortless elegance for 1-2 golfers
Designed for private chauffeurs, airport transfers, and nationwide touring, Class A vehicles exude sophistication. With high-spec Mercedes and Audi models, leather interiors, and full air conditioning, you can expect to travel in utmost comfort and style.
Class B+: Executive comfort for up to 4 golfers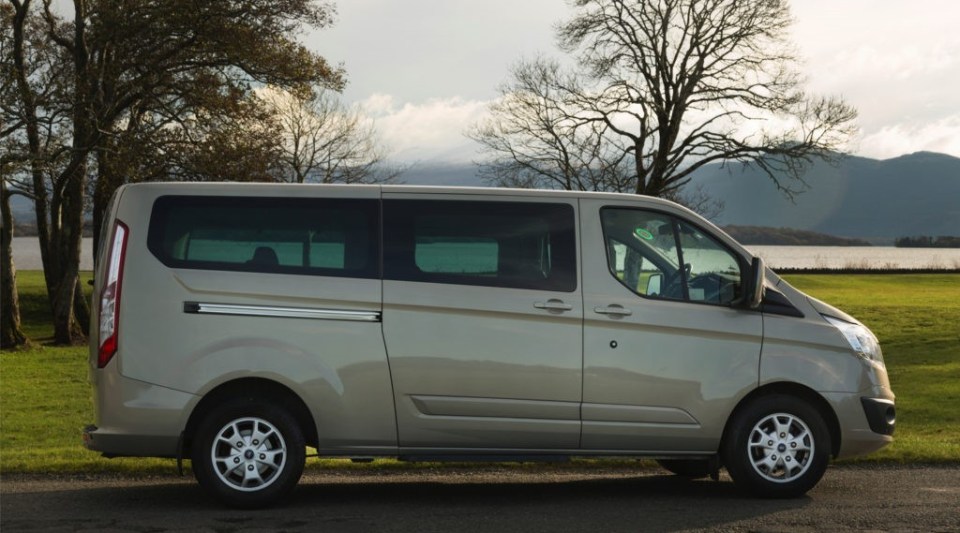 If you're seeking executive transportation for a small group, Class B+ delivers the perfect balance. A luxurious leather interior, ample legroom, and full air conditioning create a premium environment for both golf trips and private transfers.
Class D: First-class treatment for 5-12 golfers
For golfing groups or any party that craves the finest, Class D vehicles provide an intimate setting. Leather reclining seats, tables, refrigerators, and more ensure your journey is as memorable as the destinations you explore.
Class D+: VIP experience for 5-12 golfers
Unwind in a world of luxury with Class D+ vehicles, designed for groups seeking the VIP treatment. Enjoy ample legroom, 12 large 'captain's chair' style full leather reclining seats, tables, air conditioning, refrigerator and DVD player.
Class F: Opulent travel for 13-20 golfers
Highline luxury coaches featuring tables and a toilet ensure every journey passes with ease. With reclining seats, air conditioning, refrigerators, and entertainment options, Class F offers opulence on the move.
Class F+: Unrivalled luxury for 13-20 golfers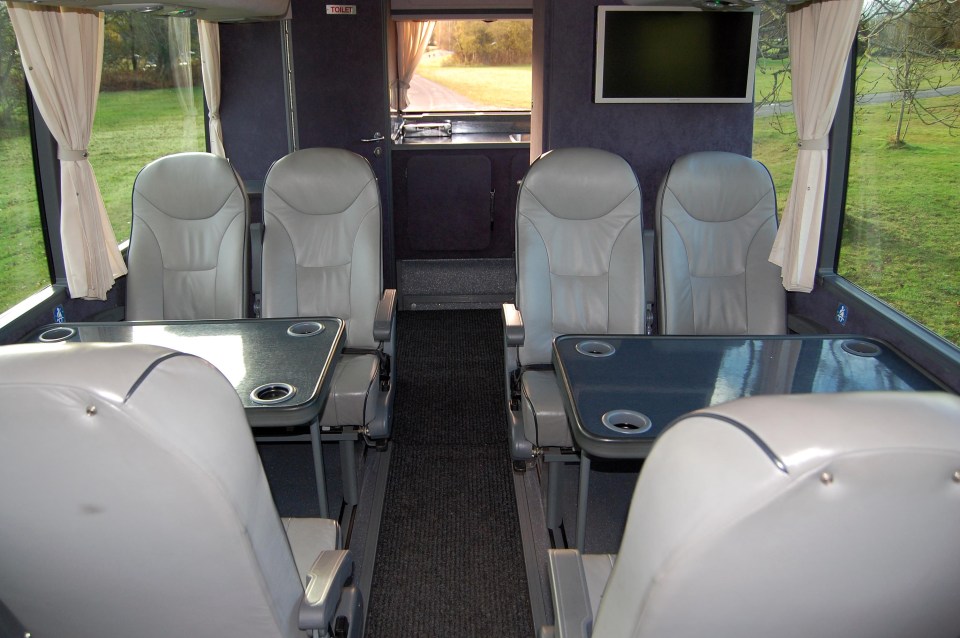 The pinnacle of luxury, Class F+ coaches offer 5-star comfort. Handcrafted leather seats, 2x 24 inch wide-screen monitors, servery areas, refrigerators, and even a drying closet redefine the meaning of luxury golf travel.
Class G: Comfort for larger groups of 21-32 golfers
Equipped with all essential amenities, Class G vehicles ensure larger groups travel comfortably. With reclining seats, air conditioning, and entertainment facilities, your journey becomes a seamless experience.
Class G+: Limitless comfort for up to 30 golfers
For the largest groups, Class G+ coaches offer the ultimate in executive travel. With 32 reclining seats, tables, a servery area, refrigerators, and more, comfort and style know no bounds.
Should I tip my concierge driver?
The decision to tip your driver is subjective. Many of our clients tell us that their driver was one of the best parts of their Irish golf trip experience.
Factors to consider include the duration of service, the size of your group, any extra services provided, and your overall satisfaction and connection with the driver.
While this serves as a guideline, we suggest a benchmark of €10 – €15 per person per day or a minimum of €400 based on a group of four.
What are the rules and regulations with having our own bus driver?
Due to EU regulations, all public service vehicles throughout Europe are fitted with tachograph devices to measure the working time of the driver.
Due to this, the daily rates apply to a relevant vehicle for a maximum of nine hours driving time per day.
The most important part of this is that the driver has eleven hours of clear rest period from when they finish and start again on the following morning.
The driver would certainly have no problem dropping clients to dinner on a given evening for the group to make their own way back to their accommodation.
Please also note that due to regulations, a driver may not work for more than six consecutive days (outside of Killarney) without taking a mandatory rest of one or two days.
Due to this regulation, a driver will therefore not be able to remain with a group for the entire duration of their stay if it is longer than six days. A substitute driver will cover the rest days or remainder of the trip.
However, if the group go north and spend a night out of the Republic, the 12-day rule comes into play; (where the driver does not have to rest after six days) but when they finish, they must have four days off.
The daily rest remains the same.
Helicopter golf transfers
For an unparalleled golfing adventure that combines convenience, luxury, and breathtaking views, choose to travel by helicopter. This is the undoubtedly the most luxurious way to experience Ireland's greens and golfing destinations.
Travel between your hotel and golf courses with ease, enjoying the comfort and speed of a helicopter.
The ultimate choice for executive golfers
Our helicopter of choice is the EC120B, affectionately known as the "Colibri" or Hummingbird. Designed for versatility, the EC120B is a single-engine aircraft that can comfortably accommodate up to 4 passengers and 4 sets of golf clubs.
This helicopter is renowned for its mission flexibility, advanced technologies, and easy maintenance. Its ergonomic cockpit is equipped with a dual LCD-screen vehicle and engine multifunction display (VEMD), reducing pilot workload and enhancing safety.
Powered by a Turbomeca Arrius 2F engine, the EC120B boasts exceptional fuel efficiency, contributing to an eco-friendly journey.
The EC120B is particularly favoured by executive golfers seeking a seamless and sophisticated travel experience. Its smooth and flexible flight capabilities make every journey an absolute pleasure.
State-of-the-art ergonomics ensure a comfortable ride, allowing passengers to enjoy the scenic beauty of Ireland's landscapes.
With an ample luggage compartment, the helicopter can easily accommodate four sets of golf clubs and small carry-on rucksack bags.
Alternatively, the luggage capacity is equivalent to four medium-sized suitcases (26x18x10 dimensions) and one small sports bag.
Why choose helicopter transfers for an Irish golf trip?
Opting for helicopter transfers with SWING Golf Ireland enhances your golfing adventure with benefits including:
Reduced transit time to quickly reach nearby golf courses without lengthy road trips
Convenient access to helipads near airports and courses ensure hassle-free transitions
Make the most of your mornings, enjoy breakfast, board the helicopter, and swiftly arrive at your chosen course
Incredible views enable you to see Ireland from a completely different perspective
Avoid traffic and travel stress, arriving at your destinations feeling refreshed and ready to tee off
Contact our friendly team today to arrange your Irish helicopter transport.

Car rental in Ireland
Explore the beautiful Irish countryside with your own private car rental. We can advise on the best car rental companies in Ireland, saving you time and money.
Keep in mind that the cost of car rental in Ireland varies and cars may be booked well in advance, especially in the busy summer months.
Upon your arrival at Cork Airport, Dublin Airport or Shannon Airport, reliable car rental options await, ensuring a smooth transition to your adventures, however, we advise booking in advance.
For those seeking a touch of sophistication, luxury car rental in Ireland adds a distinctive flair to your golf tour.
Tips for renting a car in Ireland
Be aware that age requirements might differ, shaping your choice of Ireland car rental. In general, drivers must be aged at least 21 years old
We strongly recommend having a credit card to secure your rental
Car excess insurance is also recommended
If you plan cross-border travel into Northern Ireland as part of your tour, you may be charged a fee of 34 ($38), depending on the duration of your stay
There are options for automatic and manual (manual transmission) cars in Ireland. Automatic cars will typically be more expensive
We recommend renting a GPS or bringing your own sat nav with you. This will make navigating to your destination much easier. Google Maps is also an option, but in parts of the countryside, internet connectivity may be poor
If you plan to bring your own golf equipment, consider a vehicle with ample storage space
Be sure to check whether your hired vehicle takes petrol or diesel – putting the wrong fuel in can be a costly mistake
We advise you to take photos and/ or videos of your car before you set off on your trip
How much to rent a car in Ireland?
Renting a car in Ireland will cost around $25-$40 USD a day, depending on the type of car you get.
For example, a typical 4-door sedan is likely to cost approximately $30 per day. Factors such as the type of care, rental period, seasonal demand, location and advance booking may impact the cost.
Additionally, gas prices (petrol or diesel) in Ireland cost around $6.50 per gallon (€1.70 per litre). Fuel is sold per litre in Ireland. 
Other potential costs involved in car hire include one-way rentals, admin fees, credit card fees, and Irish taxes.
It's advisable to refer to local car rental agencies or booking platforms for the most up-to-date and accurate pricing information for your specific travel dates and preferences.
How to pay tolls in Ireland with a rental car
When driving a rental car in Ireland, you're responsible for toll payments.
Most toll roads have cash toll plazas; without an electronic tag, you can stop at a cashier's booth to pay with cash or card.
For the M50 toll, contact your rental company to check if toll charges are covered. If not, you can pay in the following ways:
Failure to pay by 8pm the next day will result in a penalty charge.
Speak to us about your car rental options and we will endeavour to ensure that every aspect of your journey matches the magic of the destinations that await your discovery.
What is driving in Ireland like?
The main differences between driving in Ireland and North America or mainland Europe include:
We drive on the left-hand side of the road in Ireland
All vehicles are right-hand drive
Country roads can be very narrow and occasionally do not have road markings
Drivers salute each other on country roads, whether they know each other or not (you'll get used to it!)
Some people will find driving in Ireland to be a challenge. We advise you to make a decision that is best for you.
If you prefer not to drive, contact us to organise a concierge driver and transport for your golf trip.
Driving licence and rental insurance requirements
An international driver's licence isn't required for driving or renting a car in Ireland.
Simply bring your passport, credit card, and driver's licence from your home country with you.
You should check the terms of your car rental agreement to ensure you have all the necessary documents.
You can drive freely between the Republic of Ireland and Northern Ireland (although your car hire company may charge for this).
When renting a car in Ireland, rental insurance plays a crucial role.
Third party liability Insurance, covering property damage, injury, or death outside the rental car, is mandatory and included in the pre-paid rental cost.
Fire insurance, typically included in rates, protects against fire-related damage to the rental car.
Optional coverage like collision damage waiver (CDW) and theft protection (TP) can be purchased, usually more affordably in advance.
Many US credit cards no longer offer coverage in Ireland, and if they do, written proof is needed.
Certain cards, like Visa, exclude Ireland while American Express and MasterCard offer limited coverage options.
Additional super collision damage waiver (CDW) and personal accident insurance (PAI) can provide further protection.
It's recommended to check with your credit card company and consider additional insurance to ensure peace of mind.
Planning your journey
There are motorways connecting all the main cities and airports. Driving times between destinations, especially away from main cities, can be longer than you would expect.
When planning your golf tour, take journey times into consideration.
Check out our South West Region driving times guide below.
How long does it take to drive around Ireland?
With the general assumption that Ireland is a very small country, it sometimes can be assumed that driving around Ireland does not take long at all.
Actually, this is untrue and driving between destinations can take longer than expected. Therefore, journey times need to be considered when organising tours. Check out our driving times guide (above) for more.
Do I need a special driving licence?
You do not need a special driving licence in Ireland. A full US, Canadian or EU driving licence allows you to drive in Ireland. It also allows you to drive in Northern Ireland.