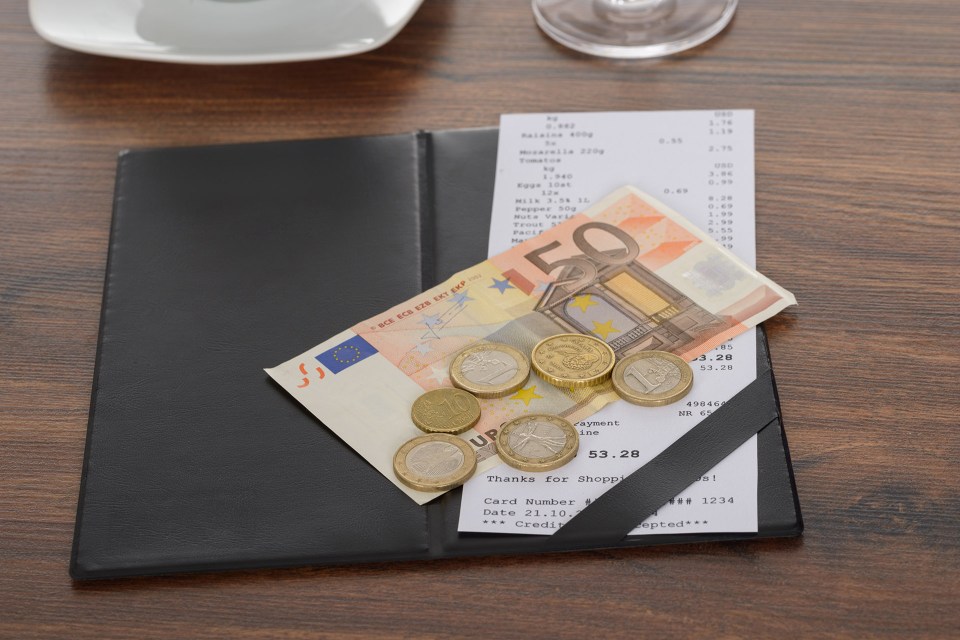 A guide for your golf trip on tipping, gratuities and currency in Ireland and Northern Ireland.
Do people tip in Ireland?
People do tip in Ireland. The customary tip is between 10% and 20%. Hotels and restaurants may include it in the bill in the form of a service charge, so remember to check.
It's not customary to tip in pubs unless you have table service. Tipping porters, taxi drivers, hairdressers and other service providers is at your own discretion.
How much do you tip a caddy in Ireland?
Caddy fees vary depending on the individual golf courses. Fees are paid directly to the caddy in most cases and a tip is at your discretion.
Our rough guide to gratuities:
Exceptional: €30 and above
Above expectation: €20
Meet expectation: €15
Below expectation: €0
If you're playing at one of the renowned golf clubs or links courses, you might consider the higher end of this range. For a double bag caddie (carrying two golf bags), you could tip a bit more.
Guide to tipping caddies in Ireland
While some courses offer golf carts (also called buggies), many golfers prefer the traditional experience of having a caddy.
When you're enjoying a game of golf on the beautiful courses of Ireland, it's important to know how to tip your caddy properly. Tipping is a way to show appreciation for their assistance and guidance during your round. Here's a straightforward guide to help you navigate the process:
Know the norm: Tipping practices can vary slightly depending on the golf course and region. In Ireland, it's customary to tip caddies to show your gratitude.
Consider the service: The amount you tip should reflect the quality of service provided by the caddy. If they've been helpful, knowledgeable, and have contributed positively to your golf game, a tip is well-deserved.
What's the right amount? For a standard caddy, a tip of around 2 to 4 euros is considered appropriate.
Tips for tipping
If you're playing with a caddy who's a senior or has provided exceptional service, consider offering a slightly higher tip. Always pay the tip in cash directly to the caddy at the end of your round.
Bring extra cash
It's a good idea to have some small bills or change in your pocket specifically for tipping. This makes it convenient to provide a tip without any hassle.
Weather conditions
Keep in mind that if the weather conditions are particularly challenging during your round, you might want to show extra appreciation for the caddy's efforts.
Playing on different courses
Tipping practices might vary from course to course, so it's a good idea to inquire about the suggested gratuity for caddies.
Group rounds
If you're playing with a group, you can collectively decide on the tip amount based on the service provided by the caddy.
Remember, tipping is a way to express your appreciation for the caddy's assistance, and the amount you give should reflect their service and your satisfaction.
Tipping your concierge or driver
Giving your concierge or driver a gratuity is a personal issue for you and your group. As your driver plays a big role in your group having an enjoyable stay, you can calculate a tip based on:
Number of days driving
Number in the travelling party
Additional favours carried out such as incurring longer hours, cleaning clubs, running errands, making purchases on your behalf etc. and generally being at your disposal throughout your stay
Overall experience for the client and rapport with the driver
Our tipping recommendation
While the above is a guideline, as a company we recommend tipping €15 – €20 per person per day and a recommended minimum of €400 based on 4 people.
Currency and banks in Ireland
Ireland is part of the EU (European Union) and uses the Euro (€). Currency exchange is available at banks and currency exchange outlets. ATMs are widely available in every town. Major credit/debit cards are accepted at most establishments.
Normal banking hours in Ireland are 10am to 4pm, Monday to Friday.
Currency in Northern Ireland
In Northern Ireland, you will require British Sterling £ (STG) to pay in cash. Credit, debit, and pre-paid cash cards can also be used in most shops & restaurants.
What electrical voltage is used in Ireland?
The electrical voltage used in Ireland is 230V and the frequency is 50 Hz.
If you are travelling to Ireland with electrical devices, be aware that Ireland uses type G plugs (three flat rectangular pins in a triangular shape). Ireland and the UK both use this plug type.
By contrast, the USA uses type A and type B, while most European countries use types C, E and F.
If you are travelling from the US, you will need a power plug adapter for Ireland and you may also need a voltage converter.
Before traveling, check with your phone service provider regarding charges for use overseas. Free Wi-Fi is also available at most hotels and guesthouses.
Ready to book your tour?
Our expert advisers are ready to assist you with all your questions for your next golf trip in Europe. Here's how you can get started on the trip of a lifetime:
We look forward to welcoming you!