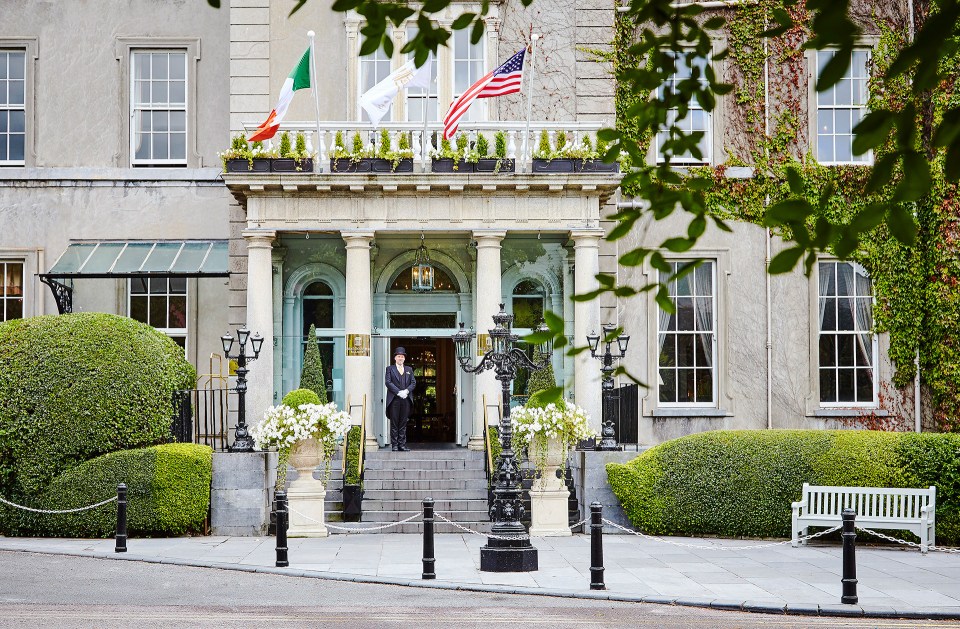 When planning your golf tour of Ireland with SWING Golf, we offer a range of golf and accommodation packages with our trusted hospitality partners to ensure your stay exceeds expectations.
Accommodation options on your golf tour

Accommodation types
3 star, 4 star and 5 star hotels: Experience luxury and comfort at top-rated hotels during your golf tour
Self-catering accommodation: Enjoy the flexibility of self-catering options for added convenience
Guest-house accommodation: Experience a warm and welcoming atmosphere at guest houses across Ireland
Castle accommodation: Immerse yourself in history and elegance with a stay in an Irish castle, adding a touch of grandeur to your golf tour

How to book

When you use our golf tour planner tool we ask you if you need assistance with booking accommodation. To help us create the perfect golf tour for you, we require the following information:
Your proposed arrival and departure dates
The number of golfers and non-golfers in your group
Your preferred golf courses for the tour schedule
Would you like us to book your accommodation based on your group's requirements?
What is your preferred type of accommodation?
For hotel stays, which star rating do you prefer (3*, 4*, or 5*)?
What type of room would you like to book (single, twin, or double)?
Are there any specific needs that your accommodation provider should know?
Your dedicated tour organiser will work with you to arrange your booking and will provide you with a quote for your tour, with accommodation options included.

Benefits of booking your Irish golf trip through a tour operator

While you can book your golf tour independently, there are compelling reasons to book through SWING Golf:
Access discounted rates at top golf courses bundled into one comprehensive package
Benefit from our golf tour specialists' expertise in crafting the ideal tour, including accommodation, transportation, dining, sightseeing and more
Enjoy the convenience of a single point of contact for all your bookings
Ensure you're getting the best value for your budget and focus on playing golf while we handle the logistics
Swift responses to queries within 24 hours and easy payment methods
Access to our emergency out-of-hours contact during your stay

Advice for booking accommodation independently

If you choose to book your accommodation directly, we strongly recommend prioritising your green fees reservations first, before securing flights, accommodation, or transportation.
High demand and limited availability during peak seasons make this step crucial.

Testimonials

Here's what some of our past clients had to say about the accommodation we've organised:
SWING did a great job with course selection, tee times, caddies, accommodations, and transportation. They even dialled in great weather for the trip.

Wnorowski Group, 2022.
Regarding accommodations, all were really great. We didn't have any problems finding pubs/restaurants and had a lot of good meals

Blakely Group, 2021.
All in all I was very impressed with SG's services, good coach, good driver, good accommodation, good food, excellent courses. I would come again and use your services in a New York minute

Berg Party, 2015.
We stayed at spacious and elegant accommodations close to the center of Killarney and played some of the most memorable and challenging golf courses in South West Ireland.

Kazenove Group, 2015.
The golf courses are some of the best in the world and the accommodations that Swing Golf provided were truly magnificent. Organizing a group of 25 golfers is a huge task to say the least, Swing went above and beyond when it came to making last minute changes, personal requests and follow up detail after the trip.

The Alotian Club Group, 2012.
Everyone in our group had a terrific time. The golf courses were great and our hotel accommodations were outstanding. As in our previous trip, the people we met in Ireland were very friendly and helpful.

Hintersehr Group, 2012.
All the accommodation and breakfasts were excellent, and the whole trip was a real-life experience and superb value for money.

Kerrigan Group, 2011.
The accommodation that you chose for us was also fantastic and we really did have a weekend that we will not forget and are already planning another trip over with the quandary of whether to play the same courses again to play the fantastic courses available there.

Dyer Group, 2010.
"The hotels and accommodations were very upscale not to mention the delicious food that we experienced everywhere that we went."

Carter Group, 2009.
At SWING Golf, we're dedicated to making your golf tour in Ireland an unforgettable experience. Get in touch with our friendly team today to start planning your dream tour.